Radio Podast: Auction at the Waldorf Astoria Hotel in New York: Reached 1M dollars (Russian)
The Auction consisted of three parts. The first part It was just a general Collection of unique and rare coins. The second part was antique Greek Roman and Byzantine coins also coins of the world. The third part was Russian coins orders and awards.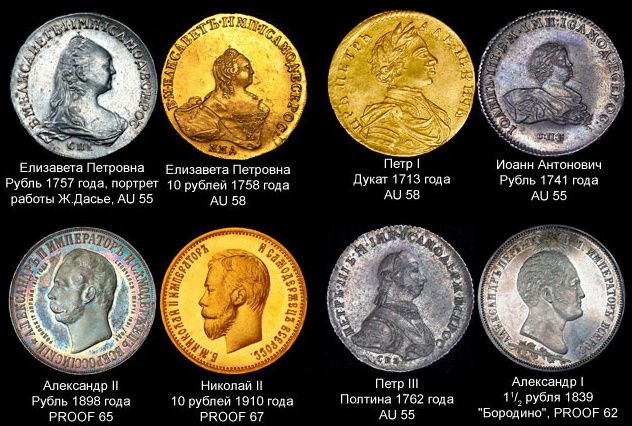 Russia NYC
Translated from Audio transcript:
Arkady:
Hello, Good morning dear radio listeners of the radio station Nadezhda. Today on my program is on the air for America. I am the editor-in-chief of the newspaper Russian America Arkady. I want to share my unusual impressions right away.  And at the Waldorf Astoria hotel about a week ago I was there to where rare coins were displayed, insignia of the order medal at the New York International Numismatic Convention.
So I was holding a coin, the cost of the citatory to start the auction was a million dollars in the United States of America.  Imagine, a million dollars! This coin I held in my hands before the auctions, this coin with the image of Empress Catherine II was already worth 4 million dollars for this amount. It's true.
Well, about this, I would like to ask one of the best connoisseurs of antiques to tell us more about it., Sergei Vladimirovich is a participant in many auctions in London, England and in many other countries. In my opinion, very few know many details about these types of auctions.
Hello Sergei Vladimirovich you are on the air of the radio station Nadezhda.
Sergei:
Hello dear radio listeners. I want to greet you all at this wonderful radio station Nadezhda, which covers allot of interesting topics and conducts important programs and events from the history of our lives.
The Auction consisted of three parts. The first part It was just a general Collection of unique and rare coins. The second part was antique Greek Roman and Byzantine coins also coins of the world. The third part was Russian coins orders and awards. I specifically know that this will be a big excitement, so to speak, or which will be remembered for a whole century. We arrived there and carefully watched how it would go.
Also present at the auction was our dear host Arkady Markovich. I want to ask you to say a few words.  Is this how you saw yourself presented and how did you like it all?  How efficient and well organized was the event?
Arkady:
I think that it was very well planned. Everything was very clear before the start of the auction in a special room under guarded protection. They were very attentive; guests were literally followed in order and by the movement of those present. All of us journalists were allowed to hold all these coins in their very own hands.  We were privileged to be able to touch all these awards/medals that will be displayed at the auctions. I want to say again that it was a very unforgettable experience!
Sergei:
Yes, I completely agree, but let's talk a little about who was in this auction business. Specifically, who dealt with these varieties and there were some firms.  It was a partnership of three leading companies in the numismatic world. I want to mention that these auctions and  trades were dedicated to the anniversary of all 3 of these leading firms.
One of the firms in particular, Dmitry Markov, celebrated 140 years in business this year. Some very nice collection were offered by Dmitry Markov. The First it was called simply a closed auction. It was a collection of antique Greek coins of cities a period covering about 1000 years, that is, we say 6th, 7th. I want to stop here exactly to start my story with this particular event because this event has already set a record in the history of the entire numismatic world. In this auction which, was arranged by this company, there was a collection offered by a single collector of more than 20 years who collected just only the best examples of numismatic art of that period of ancient Greek rule. We say the period of Hellenism and translation of Greek classicism. in this auction 642 Lots were presented.
Bryukhanov, a beautifully designed, highly professional catalog with detailed images of each item in the country was studied and a specially collectible series of postcards with antique coins and a special booklet was published that told of the worth of the most outstanding lots presented at this auction and at the initial value of the declared value starting bid price, that is, the price from which the bidding begins.
Here the starting bid price was probably agreed to in advance with the owner of the collection and it was about 200,000 US dollars, excluding the tax fee of the auction house.  17 percent fees and taxes will be applied subject to the purchase in New York. It was necessary to pay the so-called city and state of New York taxes. The auction generated more than 2 million dollars tax collection revenue. That is, we are talking about 35 million dollars of auction sales.
Of course, we have many auctions in America where American Coins are sold. These are more interesting American collectors, but Greek numismatics is still at the peak of its interest and therefore it was this coin that held the most world record.  I want to tell how it happened.
Firstly, The trades were organized in one of the oldest most famous New York hotels in the central business district of New York… which is located on Park Avenue and in the 49th Street area. Which is itself a vibrant neighborhood in New York?
The auction was held in the largest hall located on the Ground Floor, the so-called first floor. It was just a perfectly organized event.
I was at these auctions. I saw how it all operated and there were quite a lot of participants in the hall, they were professionals from all over the world.
About 200 people registered under number lot 134, you can imagine even though I arrived in advance, there was tremendous interest in this auction was a full house.
As well, the auction was opened up to bidders over the Internet. How convenient was the opportunity for participants to make their own types of so-called bids without leaving the office, home, or just out and about using a Smartphone.
After all, you understand that today the rhythm of life is in step with the times.  We live in the twenty-first century and the means communications means and opportunities. Especially with the help of the Internet they allow you to participate in such auctions anywhere in the world wherever you are. Arkady I'll pause for questions:
Arkady:
I would like to ask you Sergei Vladimirovich to tell you in general how often do such Auctions take place and where do they take place, only in New York or in some other cities and countries? This is the first question.
Sergei:
Well, that's a great question, auctions are usually held under some coin show events, meetings inside Greece, or rallies, This auction in particular was a meeting of International Gathering of Numismatics Collectors that takes place annually.
This is a very large even and it attracts allot of attention from collectors and buyers from around the world. We based this on the assumption that it was just a highlight as we say in America there is the highest peak of interest and this level of auctions New York in the United States of America is considered the main attraction for such auctions. I understand why because as you understand, New York is the capital of the world as we call the city in which everything happens and everyone gathers people of various interests and people who are related to financial so-called interest.
As you understand recently, this is a business which means many corporate organizations that invest their money in order to make a profit.
I want to tell you a little bit exactly. Many of these collections have soared in value.
They are sold for several times than their originally acquired prices. This shows a very great interest in various subjects. The auction began with Greek Silver coin number one. It was it was 150 100 years old diploma and properties of the publishing house of Christ. It was a silver drachma.
It is weighing only 2 kg and estimated price of 550 dollars, it was sold for 1700 dollars. This sold for more than twice the estimate. Of course, the bidding began quietly in normal mode, but already starting with Lot 6 with a starting price of 7000 dollars of hammer blow, the lucky owner bought this coin from the company Neapolis. That is Naples Greek period silver drachma is 27 g coin out of 34  for 250,000 dollars.
As you understand, a starting bid of 7000 and a sale of 250.000. It understood that they were bought by professionals,  they were not amateurs. That is, this auction moved swiftly and increasing prices quite abruptly.